CONCERT HALLS & MUSIC VENUES
National Academic Theatre of Opera and Ballet after Al. Spendiaryan
---
The Opera and Ballet Theater takes its unique place in the life of the capital. Located in the heart of Yerevan, the theatre is a cultural hub and an architectural triumph of the capital.
---
In 1927, in the State Conservatoire of Yerevan by the initiative of its director A. Ter-Ghevondyan the opera studio was founded and with the staff of its choir (R. Melikyan, S. Melikyan), its symphonic orchestra (A. Adamyan) and its soloists the National Opera Theatre was founded by the Armenian Government decree in 1932. It was opened with the performance of opera "Almast" by A. Spendiaryan on January 20 1933.

By the initiative of the musical director of the Opera Theatre R. Melikyan in 1935 the opera by A. Tigranyan "Anush" was staged on the specialized stage for the first time.
Alexander Tamanyan, returning to Yerevan in March 1923, took up a number of positions and became one of the leaders of the construction of the republic. In January 1926, the Transcaucasian Central Executive Committee decided to build a People's House in Yerevan with a theater hall and capacity in accordance with the requirements of the city. The project implementation and construction management was entrusted to Al. Tamanyan.
In 1938 the theater was named after Alexander Spendiaryan.
In 1940 the National Theatre of Opera got the magnificent new building designed by the great Armenian architect Al. Tamanyan. This building is one of the most beautiful constructions in Yerevan.
The first national opera "Arshak II" was first staged in 1945.
The Opera and Ballet Theatre has its unique role in the life of Armenian public. Preserving the heritage of our older generations the Theatre is faithful to its ideology: to show Armenian art lovers high level of culture and to educate a new generation for which this theatre will become a place of vital significance.
The Yerevan Opera House functions as a creative platform for emerging composers as well. In this respect, it collaborates closely with the Komitas State Conservatory of Yerevan as well as the Yerevan State Choreographic College, with the goal of supporting talented young artists.

In the courtyard of the Opera and Ballet Theater there is the Freedom Square, on which statues of the great Armenian poet Hovhannes Tumanyan and composer Alexander Spendiaryan are installed. Freedom Square is one of the most popular places in the city, as it is not only a cultural center, but also a pleasant place to walk and enjoy the peaceful atmosphere of the city.

EVENTS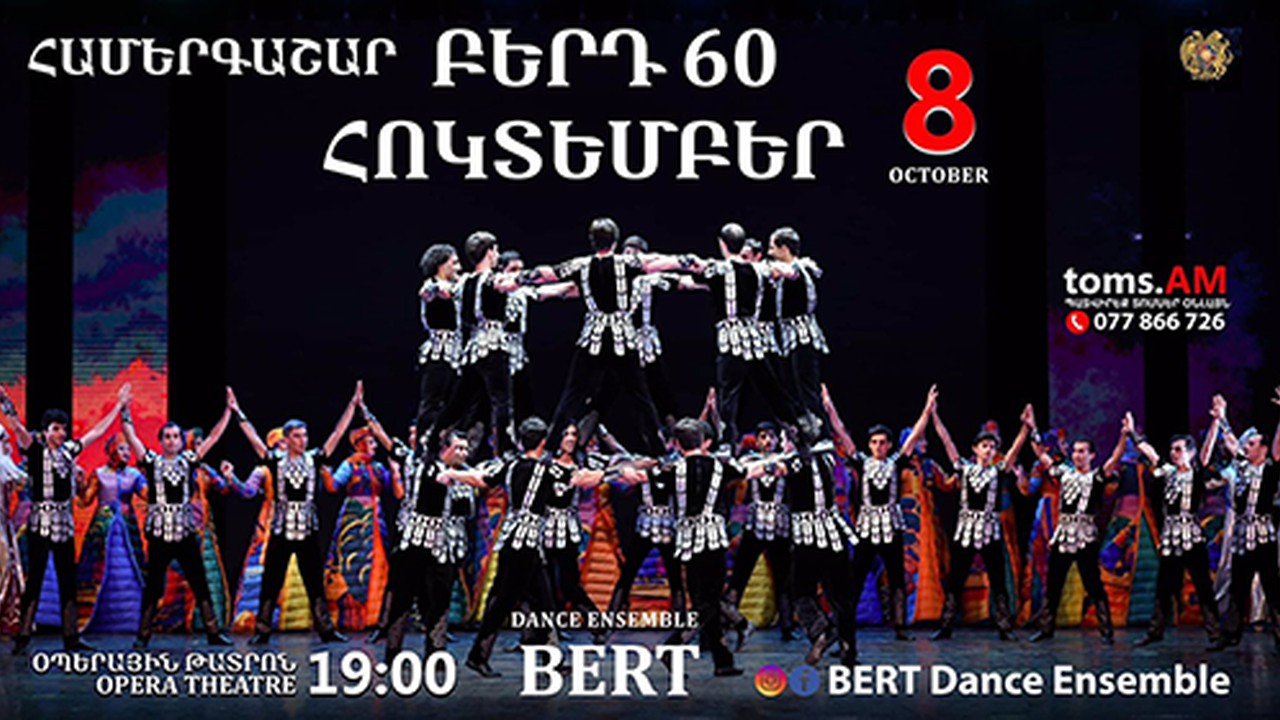 Bert - 60
National Academic Theatre of Opera and Ballet after Al. Spendiaryan
54 Tumanyan. Str.
+37433 533 391
4000, 5000, 6000, 7000, 8000, 10000, 12000, 15000 AMD