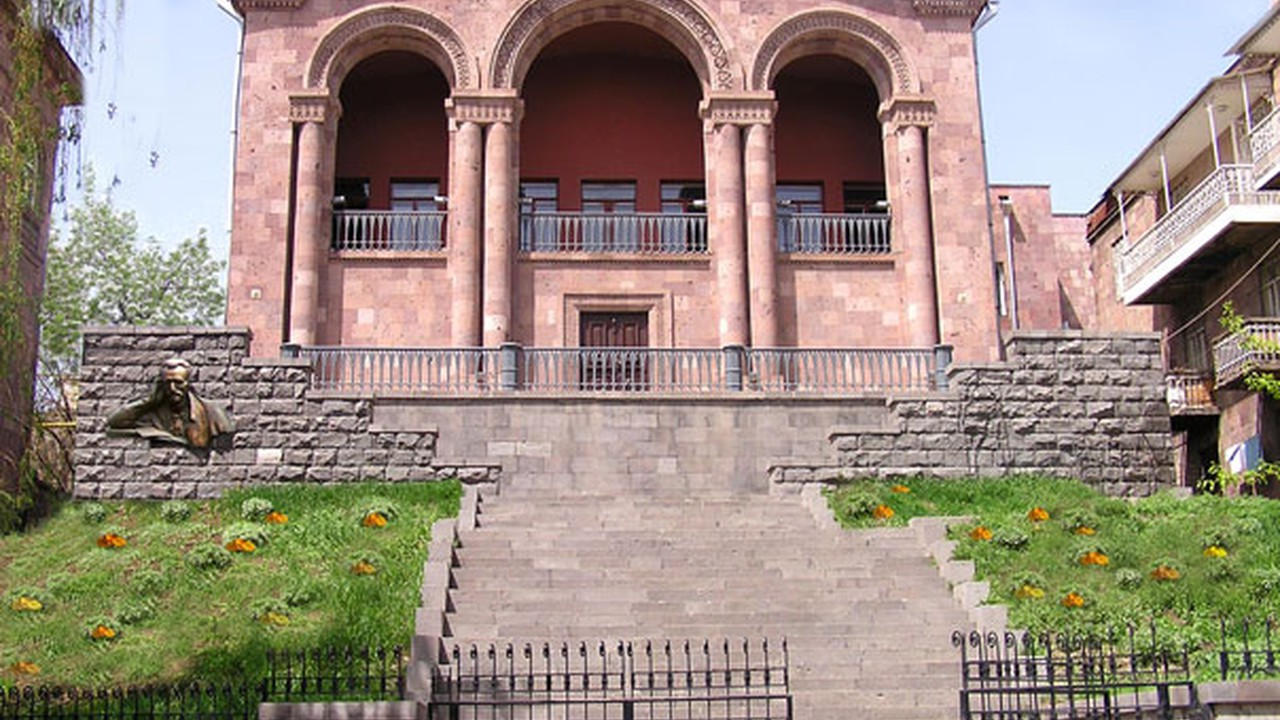 Hovhannes Tumanyan Museum
---
The month of April in 1953 marked the opening of the museum dedicated to renowned prominent Armenian thinker, writer, poet, fabulist and humanist Hovhannes Tumanian.
---
Thus, in 1949 on the occasion of the 80th Anniversary of Hovhannes Tumanyan birthday, the government decided to build a museum in Yerevan in honor of his everlasting memory and for preservation of his literal and material heritage. In April, 1953 at Moskovyan 40 in Yerevan by the project of architect Grigor Aghababyan the museum of Hovhannes Tumanyan was opened, where more than 19 000 exhibits are kept carefully.
One of the greatest values of the museum - Hovhannes Tumanyan's personal exceptional and various library consisted of about 8 000 exclusive books – is kept in a separate hall on the second floor.
The permanent exhibition area is located on the first floor of the museum. There are lots of valuable exhibits introducing Tumanian from the very childhood to his death. The visitors get appropriate information about the literal and social activities of poet by photos, letters, documents, etc. There is a mysterious corner at the museum where the "Vernatun" (garret) is demonstrated with all its original appearance. Due to innovative technologies the visitors can see Tumanian himself and imagine his cultural discussions with famous Armenian intellectuals Gh. Aghayan, L. Shant, D. Demirchyan, Komitas, G. Bashinjaghyan and Av. Isahakyan. T
oumanian used to decorate his apartment with paintings. Those masterpieces made by G. Bashinjaghyan, P. Terlemezyan and Al. Bazhbeuk Melikyan are carefully demonstrated at the museum. Besides,, there are new paintings made by M. Saryan, Gr. Khanjyan, Al. Grigoryan, etc. who was inspired by Tumanians works. One of the interesting corners of the museum is the scenery of "Lori canyon" accompanied by the overture of "Anush" opera.
Upstairs, there is a large and bright hall for exhibitions, presentations and performances. The winter garden is an open museum with the sculptures based on Tumanian's works. There is another garden with a small fountain and his favorite trees and flowers. The 54 stairs leading to the entrance of the museum symbolize the years of Hovhanness Tumanian's life.
Hovhannes Tumanian museum is always on trend with its attractive and educational programs inside and outside Armenia. It is a lovely place for local and foreign visitors, where they can experience innovative technologies along with the classic exhibitions, watch 3D animations, meet with virtual heroes of Tumanian and take a photo with them. They can also take part in educational and cultural projects, exhibitions and festivals.
The museum has a research center researching and publishing the archives of Tumanian's family and especially his children , new materials about Tumanian and also organizing conferences on childrens' literature and fairy tales.
WORKING HOURS

---
Tuesday-Saturday 10:30-17:00

Sunday 10:30-16:00

Monday: Closed

ENTRANCE FEE

---
Adults - 1000 AMD

Schoolchildren, students, pensioners, refugees - 500 AMD

EXCURSION

---
Armenian - 2000 AMD

French, English, Russian, Arabic, Western Armenian - 3000 AMD
Educational programs - 2500 AMD
Cartoons - 100 AMD

---
+37410 560 021, +37410 516021